Commissioning Adair Art
Terry Adair will be happy to work with you, via email or phone, to create a unique Wood Sculpture, Wall Hanging, piece of Fun Art or Handy Art (decorative candle sticks, bowls and more) that will carry life-long enjoyment and meaning for you and its recipient. The process in itself will become "your story" that you can enjoy telling time and again.
Adair art is often commissioned to celebrate, thank and remember someone special, to fundraise, or to enhance a personal living or work space. More specifically, to convey a story of significance through hand carved imagery from information you have shared.
You can either find a piece in the Adair Gallery & E-Store that you would like to base your commission on, or discuss your ideas with Terry.
Contact Terry for a free and confidential discussion at: 705-457-9199 or by email at submit@twistedpinestudio.com.
Heartfelt Commission Stories
The Sue Forbes Story - in Terry's Own Words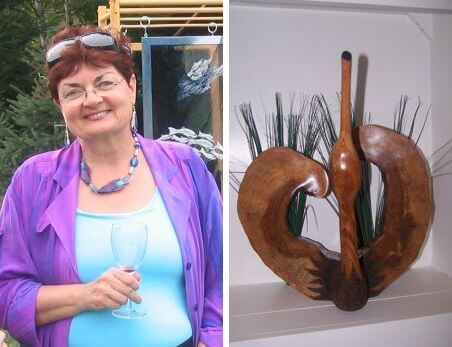 Sue Forbes was a very talented artist in our community of Haliburton, and operated "Fish-out of water." I met Sue through the School of Fine Arts, Fleming College, at one of our pot luck dinners. We became very good friends, as she worked with wierd pieces of wood and always wanted me to cut, trim or shape her wood. She always stored wood with me to dry and shape.
Sue died of cancer, after a long battle. I lost a very good friend. A couple of years later, Val Jarvis was collecting for a cancer fund raiser, and it was an opportunity for me to pay tribute to Sue by designing a sculpture from one of her pieces of wood to be raffled off.
Then came the day of the raffle at the Haliburton Home Show. The sculpture raised $650. A local resident won the sculpture, but Val had fallen in love with it and wanted it for her own. After she unsuccessfully offered to buy it from the winner, I got involved and, fortunately, suggested a deal that made everybody happy. The winner found a different sculpture in my gallery that he liked … and Val became the proud owner of "Elegance."
She has also been enjoying telling this story about it ever since.
A Very Special Father - in Terry's Own Words
My Studio is open from the time I put the wood stove on in the morning until I shut down in the late afternoon for a snack and a nap, I'm older than dirt, so I need my beauty sleep.
One afternoon, a beat up old pick-up truck pulls into the driveway and an elderly gentleman with well used work clothes and over-the-hill running shoes, steps out. He wants to see my studio. I show him through and excuse myself to the workshop, as this would appear to be a waste of my time. This man stayed in my studio for over an hour, and then announced he would be back tomorrow to decide what to buy.
As promised the man shows up, same truck and clothes, and spends another hour in my studio. I'm getting a little ticked wondering what he's up to. He then comes into the workshop and announces that he has decided on what to buy. He stood in the center of the room and said, "I'll take that, that, that, that, that and that. Six sculptures, wrapped and ready for pick-up tomorrow afternoon. Would you like a cheque or cash?"
After I closed my mouth, I said, "Either would be fine." He left in his old pickup truck and I was sure that would be the end of it; however, I was prepared to wrap and package up the sculptures.
Next afternoon, this black limo pulls into the driveway, and out steps this very well-heeled lady, along with a very distinguished looking gentleman – guess who – my pickup truck man. My first comment to him was, "You clean up real nice squire." He laughs and advises me: "Whenever I buy artwork from a local studio, I drive my pickup truck and wear old clothes. I get better prices that way."
He said he was having a family get-together and was giving each of his children a sculpture. I asked: "You have eight children, but the other two are not into wood?"
Next weekend, he was back to buy two more sculptures for the other two children, as they loved the sculptures. Thank you, children.
Sample of the sculptures: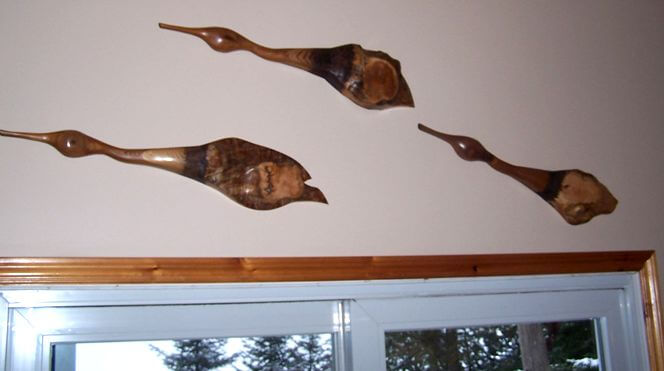 Terry Adair — Twisted Pine Studio — 233 Harmony Road, Haliburton ON K0M 1S0
705-457-9199 — submit@twistedpinestudio.com